Jess and Casey are having a great time at the Squam Art Fair! Sarah and I holding down the fort, and we're all getting excited as we get ready to travel to Ohio next week - we're heading to Columbus for the TNNA (The National Needlework Association) summer trade show. We always come home from TNNA with so many ideas for making Ravelry better for all of us! This year, we know we're going to have an extra fun time - we're hosting two events in Columbus: a party at Yarnmarket's store and an Ice Cream Social for TNNA attendees and exhibitors. Want details? We got 'em!

Thursday, June 10, 6:00 - 9:00 PM: Ravelry at Yarnmarket Deborah from Yarnmarket graciously invited us to have a party in her shop, and we really can't wait! This is a great chance for us to meet some folks in the local knitting community while in town for the trade show. This evening is open to all (with RSVP - space is fairly limited) and is sure to be a fun time! If you'd like to attend, please email Deborah at ravelryATyarnmarketDOTcom (just replace the AT and the DOT with their regular email symbols). She'll be able to put your name on the list while there is still room, confirm your place, and set you up with directions to the shop! Friday, June 11, 8:30 - 11:30 PM: Ravelry Ice Cream Social at TNNA The National NeedleArts Association (TNNA) hosts industry-only trade shows in Columbus each summer, giving us the chance to see what is coming next in the fiber world and get caught up in a whirlwind of activity and people and lovely new yarns and designs. We are so lucky to be in an industry full of so many creative, talented, passionate, and just plain nice people behind all the companies we love to support, and we thought it would be great fun to start off the weekend with a bang meeting and networking with our fellow convention-goers… over yummy ice cream! After all, Columbus is the hometown of Jeni's Ice Creams (otherwise known as the fuel of the Columbus TNNA show. Seriously. We may or may not eat it multiple times a day when we're in town... ahem). The generous support of our sponsors helped us to turn our fun (and perhaps slightly silly) idea into reality: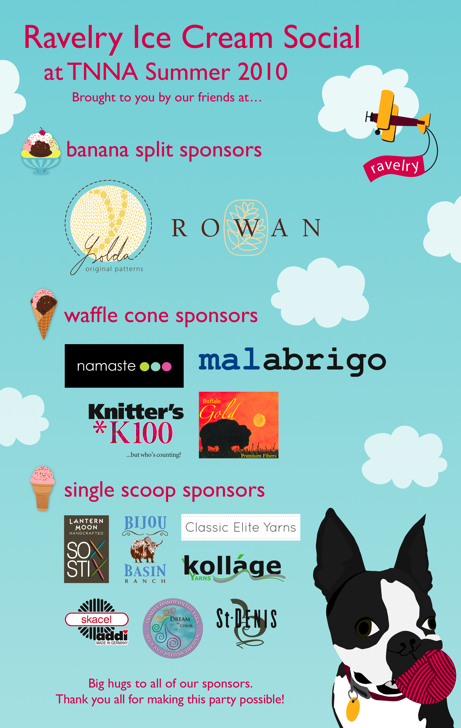 Banana Split Sponsors: Rowan Ysolda Teague Waffle Cone Sponsors: Buffalo Gold Knitter's Magazine Malabrigo Namaste Single Scoop Sponsors: Bijou Basin Ranch Classic Elite Yarns Dream in Color Yarns Kollage Yarns Lantern Moon Skacel St-Denis Thank you so much, sponsors - we truly appreciate having the support of such fabulous companies! The Ravelry Ice Cream Social at TNNA is going to be held in the foyer (across from the bar) of the Hyatt Regency Columbus, just after the TNNA Fashion Show. We'll have drink tickets, music, plenty of room to hang out and meet with your fellow TNNA attendees and exhibitors, and lots of delicious Jeni's Ice Cream! It's sure to be a great time - if you're coming to TNNA and would like to attend the Ice Cream Social, please RSVP on its Ravelry Events page. We think this is going to be a very memorable industry soiree! We're really looking forward to this trip: meeting lots of Ravelers, brainstorming new ideas for Ravelry, and lots of ice cream sounds like the makings of a pretty fantastic week. See you soon, Ohio! Comments...
---