This year's New York Sheep and Wool Festival was an absolute blast! The weather was perfect - crisp and cold enough to wear our woolies (just barely cold enough on Sunday), with clear blue skies and those beautiful October leaves. Getting the chance to meet so many happy Ravelers is such a treat - thank you so much to everyone who came to our meetups and the party on Saturday night! The Ravelry party was so much fun! It was our biggest party to date - nearly 800 Ravelers came to the Elks Lodge and there were smiles all night long. There was a bit of a wait for the shuttle bus (next year we hope to have two!) but from what we heard, folks were making all kinds of new Ravelry friends in line, which is so great! We could not have thrown this party without our sponsors - great big thanks to you all!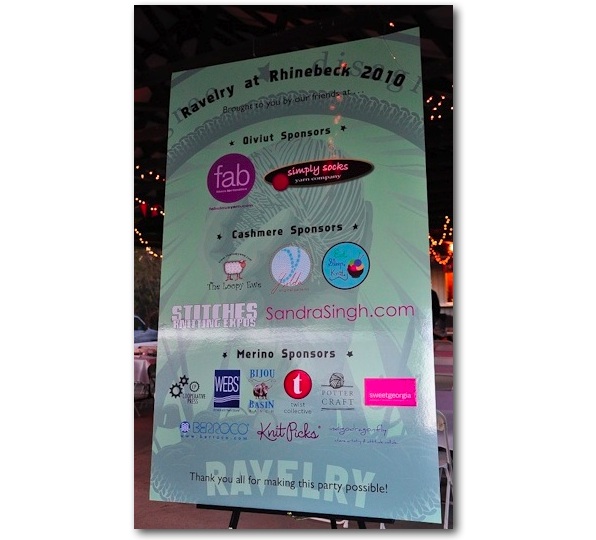 qiviut sponsors: Fabulous Yarn and Simply Socks Yarn Company cashmere sponsors: eat.sleep.knit, The Loopy Ewe, Sandra Singh, XRX/STITCHES Knitting Expos, and Ysolda Teague merino sponsors: Berroco, Bijou Basin Ranch, Cooperative Press, Indigo Dragonfly, Knit Picks, Potter Craft, Sweet Georgia Yarns, Twist Collective, and Webs! Thank you all so much for your support - you all rock, and we wouldn't be able to do this without you! (Please visit those links and support our sponsors!) Once at the party, there were lots of snacks, a great big bonfire, and an awesome photobooth that Ysolda set up! (You can see the photobooth pictures on Ysolda's site!)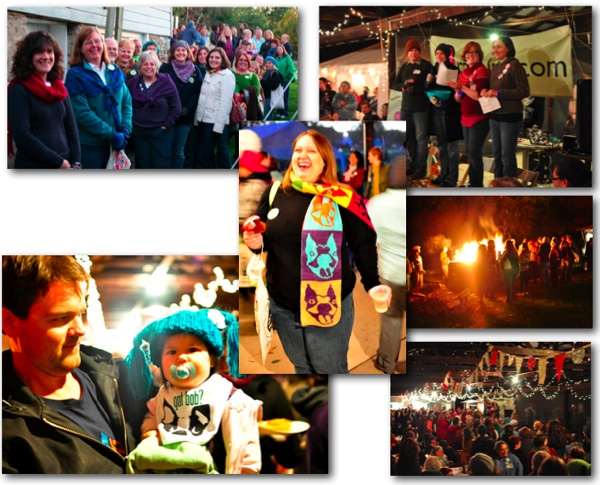 We had a table full of seriously great door prizes donated from the sponsors - lots of oohing and ahhing (and a few squeals of glee!) from the crowd as we announced the winners!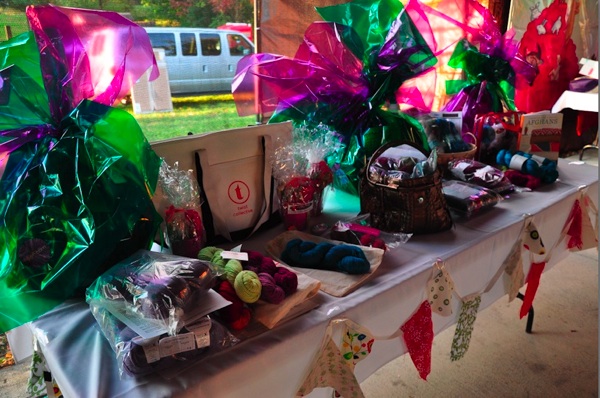 We also had some fun giveaway project bags printed up, designed by the fabulous Julie of symposi.com. The sponsors provided some coupons and fun goodies for inside the bags.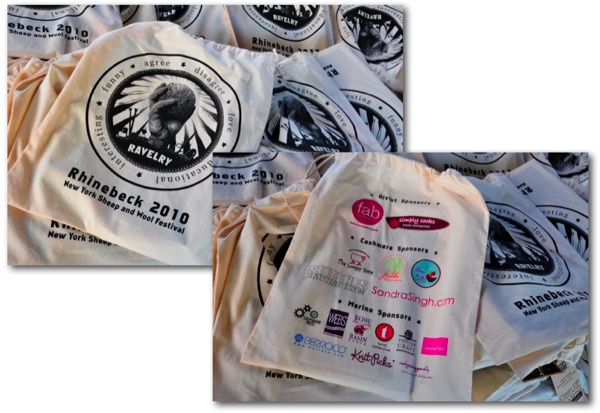 Once again, we got some printed cupcakes from Deising's Bakery - these are always a big hit! We had chocolate and vanilla cupcakes, with cool printed designs that complemented the project bags and sponsor poster.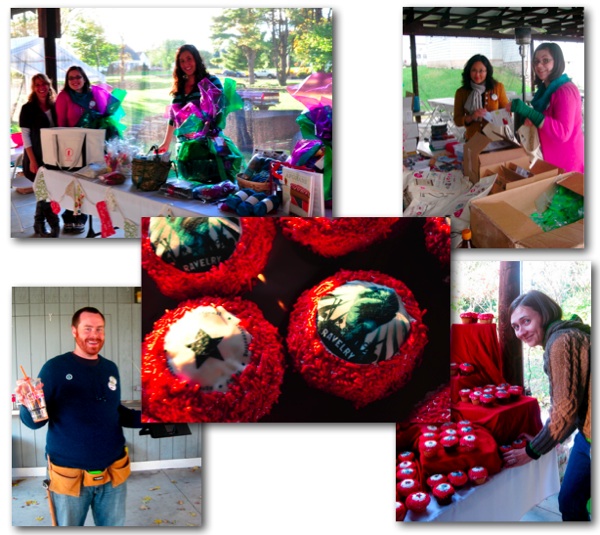 We really want to say a huge thank you to our helpers! They worked for hours: stuffing goody bags, running errands, hanging twinkle lights and garland, moving tables and chairs, arranging cupcakes, greeting partygoers, taking pictures, handing out buttons (we gave out 1,000 buttons over the weekend!), helping to clean up the party, and pitching in all over the place as needed for the whole weekend. There is no way the party could have happened without them, and we just regret not thanking them live at the party so they could get the round of applause they deserve! Emily, Nancy, Cheryl, Laura, Ysolda, Thea, Gudrun, Julia, Kyle, and Erica, as well as Cirilia, Cecily, and Maya (not pictured but still super helpful!): we love you guys!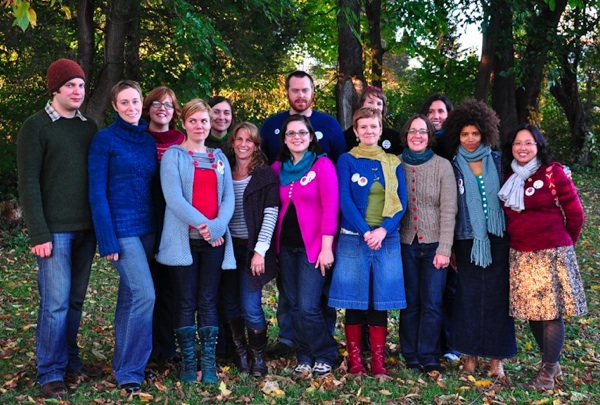 We also had two great meetups during the day on Saturday and Sunday. Thank you to everyone who came by our spot on the hill! There were cupcakes, hula hoopers, and many smiling faces.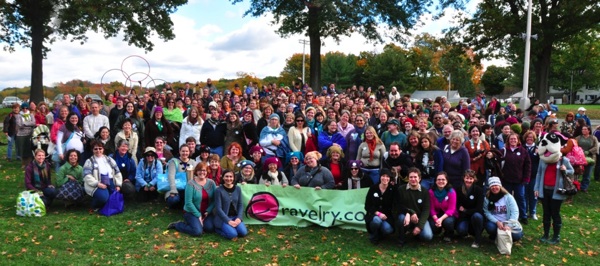 These were our largest meetups yet - especially the Sunday meetup - we've never had a Sunday turnout like that, it was so great!

If you have photos from Rhinebeck this weekend or any other Ravelry event or meetup, please add it to our Ravelry Events pool on Flickr - we love checking out those pictures! There is also the great Rhinebeck group on Ravelry where you can talk about what you bought and who you saw (and, of course, what you bought!) this past weekend!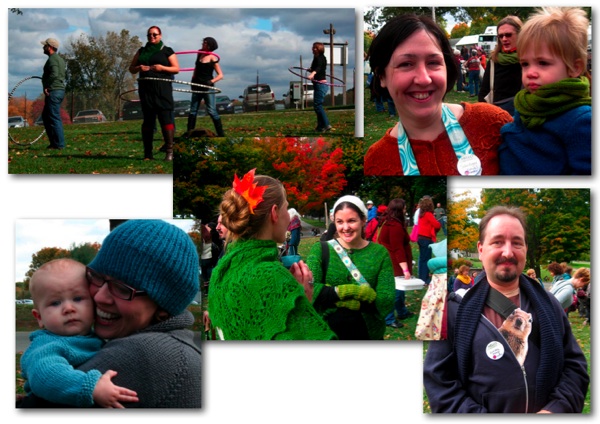 Every time we travel to a festival or event, we come away so overwhelmed and grateful for the wonderful Ravelry community. So many people take the time to come and thank us for our work on Ravelry, and we appreciate every single one of you, but we just have to say: THANK YOU! Thank you for everything that you give to the site and to our community! Ravelers rock!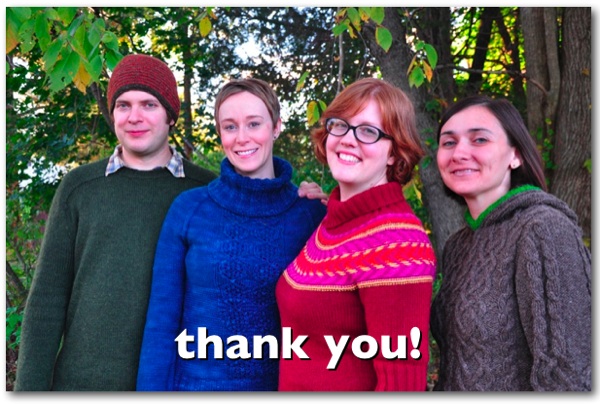 p.s. We know that people will ask about our woolies - so here are some links for you! Casey is wearing his Seamless Hybrid that Jess knit for him for last year's Rhinebeck, as well as his Hat of Love (an original creation by Jess!). Jess is wearing her gorgeous Vaila sweater, I'm wearing the awesome Orange Pop!, and Sarah is wearing the lovely Gwendolyn. We were warm and cozy! Comments...
---