The New York Sheep and Wool Festival is next weekend in lovely Rhinebeck, NY, and once again, we're hosting a party! This is our 4th party at NYS&W (4th! Can you believe it? We can't!) and we think it is going to be our best party yet! The party is made possible because of the help from our generous sponsors: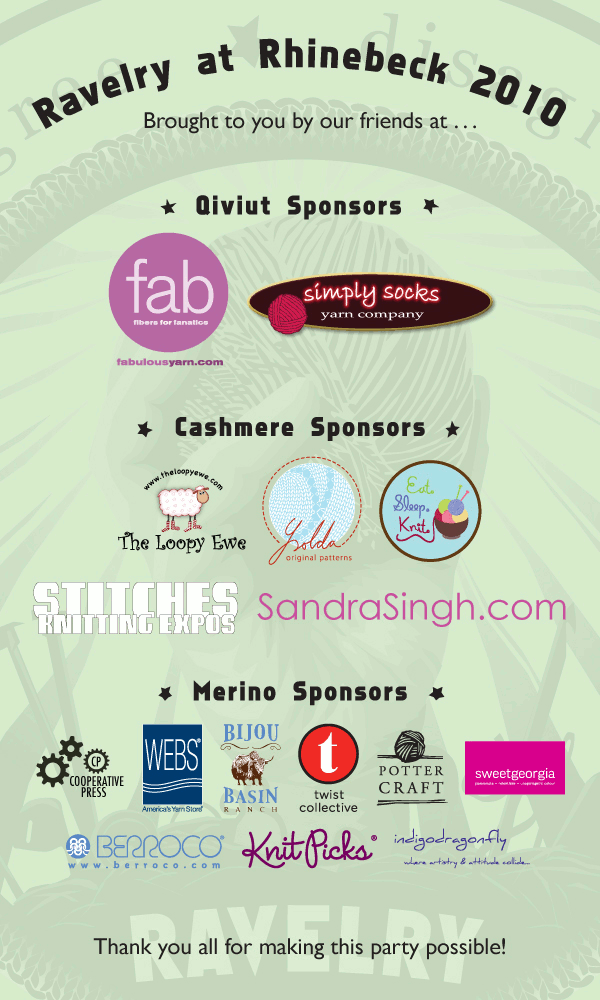 Big thanks to our qiviut sponsors: Fabulous Yarn and Simply Socks Yarn Company; our cashmere sponsors: eat.sleep.knit, The Loopy Ewe, Sandra Singh, XRX/STITCHES Knitting Expos, and Ysolda Teague; and our merino sponsors: Berroco, Bijou Basin Ranch, Cooperative Press, Indigo Dragonfly, Knit Picks, Potter Craft, Sweet Georgia Yarns, Twist Collective, and Webs! Thank you all so much for your support - you all rock, and we wouldn't be able to do this without you! Party Details Once again, we'll be at the Elks Lodge in Red Hook, in their outdoor pavilion with heated tents, plenty of chairs, music, snacks, a cash bar, amazing door prizes from our sponsors, and hundreds of your fellow Ravelers to hang out and have fun with! The party will be on Saturday, October 16, from 6:30 - 11:00 pm (we're going to need plenty of setup time so please avoid arriving early if you can!). You can RSVP for the party on its Ravelry Events Page. The address is: Elks Lodge 7711 Albany Post Rd Red Hook, NY 12571 Google maps link! (Parking information and more below the photo!)
While there will be some parking directly behind the Elks Lodge, we have learned that it will fill up quickly, and street parking is not permitted, so once again we have worked with the Elks to provide a bus service from the parking lot of the Mill Road Elementary School 1 mile down the road. (Google maps link to the school!) This worked out really well last year! :) We strongly encourage folks to carpool and park at the school to take advantage of this shuttle service (it will be running back and forth all night) and save some parking headaches! Lunchtime Ravelry Meetups!
We also have two meetups planned during the day on both Saturday and Sunday from 12 to 1 pm. (Click on those links to RSVP!) The location for the meetups is shown on the map below- it is a shaded field down the walkway from the author's tent. Come and meet your fellow Ravelers and get a Hello! username button.
For more information about the Ravelry festivities at Rhinebeck this year, including the answers to some frequently asked questions, please check out the Final Details thread in the New York Sheep and Wool group! Be sure to wear your Ravelry shirts and pins and carry your bags around the festival - some vendors are offering a discount to Ravelers! We just can't wait for all the beautiful fall leaves, sheepdog trials, fried artichokes, friends, and of course yarn, fiber, and other fibery goodies that NYS&W has to offer... See you in Rhinebeck! Comments...
---