We had a fantastic time in Atlanta last weekend at STITCHES South! Friendly people, great food (ok... really great food, and lots of it), fun events, and lots of amazing goodies in the marketplace: what's not to love? Our weekend was jam-packed and full of happy, positive people - we just loved meeting everyone.
The entire event had a wonderful community feel throughout the weekend. The marketplace, classes, and evening events all took place in the same hotel at which many attendees were staying, so the seating areas in the lobby were full of crafters throughout the day and late into the night... so was the hotel bar. ;) This gave the weekend such a cozy and casual feel - it was kind of like camp for yarn-loving grown-ups (who'd rather sleep in a hotel than a tent).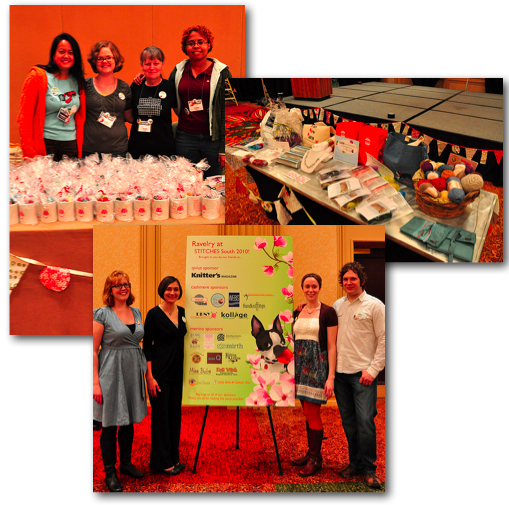 We started our weekend with a bang, hosting the Ravelry party on Thursday night. Around 350 happy Ravelers came by for some music, snacks, drinks, giveaways and door prizes... and even a chocolate fountain!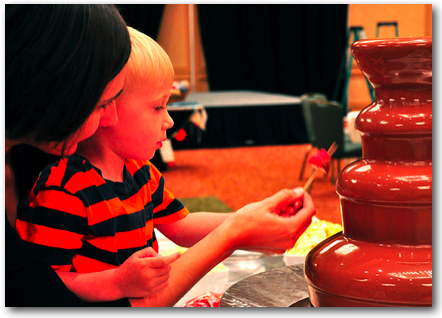 Thank you again to all of our fabulous sponsors - we wouldn't have been able to host this event without your help, and the generous door prizes and giveaways you all donated made lots of attendees very, very happy. :)
Whenever we work with sponsors to throw an event like this, we are reminded of just how lucky we are to be in an industry with such lovely people behind the companies we all support. Please visit these links and check out the fantastic yarns, designs, notions, and goodies from our sponsors!
Qiviut: Knitter's Magazine
Cashmere: Discontinued Brand Name Yarn, Eat.Sleep.Knit, Handknitting.com, Kollage, Skacel, Trendsetter Yarns, and WEBS
Merino: Bijou Basin Ranch, Della Q, Interlacements Yarn, Lion Brand Yarn, Lisa Souza, Knitting Notions, KnitWitch, Mirth, Miss Babs, Only Ewe and Cotton Too, and Sassafras Creations
Special thanks also to our fabulous party volunteers (Lauren, Kim, Jessica, and Kathy) who helped us set up before the party, clean up after, and took care of all the attendees as they entered the room. We also owe a huge thank you to the good folks at XRX, especially Benjamin and Molly, who helped us with our trip to Atlanta every step of the way, and Lisa, who seemed to be everywhere at once taking pictures of the event, and let us use some of her great photos for this blog post. Planning our attendance and party at STITCHES South was a breeze (and fun, too!), thanks to their help and support. It's easy to see why STITCHES events are so popular when you meet the warm and friendly people behind them all. :)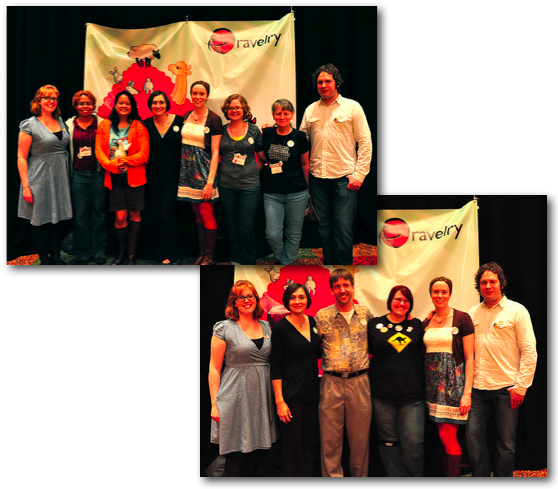 The party was only the beginning of a whirlwind weekend. STITCHES events are packed with fun things to do! Friday began with the opening day talk (block your swatches!) and lunch with the fantastic teachers in attendance, and ended with the big fashion show. Sarah, Jess, and I were all so inspired by the fashion show garments, particularly the beautiful summer wear in warm-weather fibers. The weather is heating up where we all live, so the drapey tanks and skirts really caught our eyes.
On Saturday night, we served as special guest judges at the Student Banquet and Fashion Show. This event allows attendees to get on stage and walk the runway in their favorite projects from the past year, and all we had to say was: WOW. It was great fun to see such amazing pieces, and really hard to choose a winner! In the end, we gave our prize to this stunning sweater from Phyllis (who we are pretty sure is ngaknitter on Ravelry - we forgot to write her username down but the name, location, and fact that she's been knitting for about 3 years definitely match)!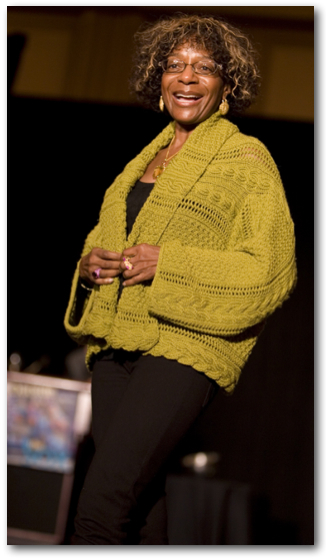 The sweater is her own design, knit entirely in reversible cables, and can be flipped not only inside-out but also top to bottom to change the look of the sweater's length and shaping around the neck. It was a stunner! As you can see, Phyllis was absolutely glowing - who wouldn't be, after finishing such a gorgeous garment? We were proud to give her a special Ravelry prize pack (a tote bag filled with goodies from the Ravelry minimart).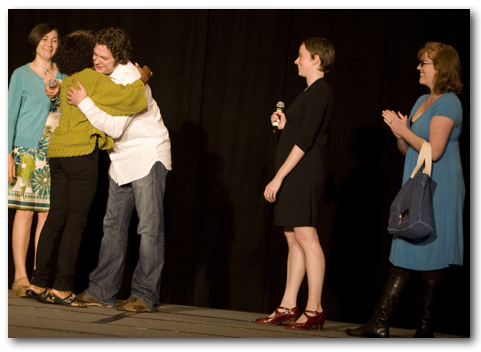 Naturally, we hit the marketplace floor every day - there were lots of wonderful vendors, and it's impossible to get tired of looking at such lovely wares. Even Sarah's little one, Cam, had fun checking everything out! The Atlanta Knitting Guild and the North Georgia Knitting Guild even had a table set up right as you entered the marketplace, greeting everyone with a warm welcome and a table full of swifts and ball winders to use after a few purchases. :)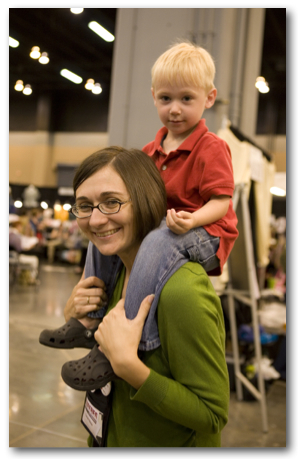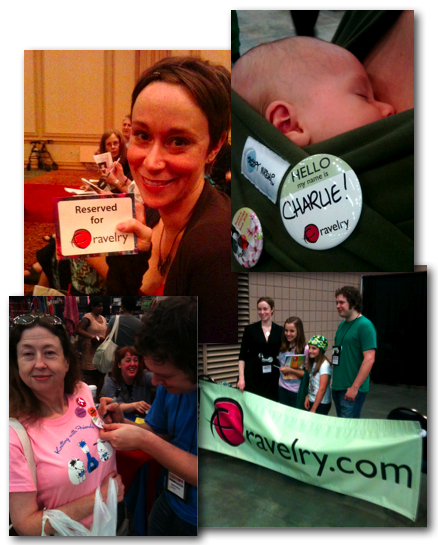 It was so great to travel as a team to a new part of the country and take part in such a big event. Thank you, XRX, for inviting us to come!
If you were an attendee and have photos from the Ravelry party or meetups this weekend at STITCHES South, please add them to the Ravelry Events pool on Flickr! Thanks so much to everyone who gave us such a warm welcome in Atlanta. We had a blast, and hope your weekend was wonderful, too!
Comments...
---