With our super busy travel schedule, I am finally getting to sit down and write about the lovely event that was Knit Nation in London- we had such an amazing time! Alice and Cookie were so well organized and such great hosts, the volunteers were amazingly helpful, the attendees and teachers were enthusiastic and we just felt so lucky to be included. I wasn't able to take any classes because I can't knit due to injury (nothing drastic just repetitive stress) but Casey and I were able to join in the fun by going around the great Marketplace, giving our talk on Ravelry, and hosting a fun party on Saturday night! We arrived a couple days early and got to visit the V&A (the amazing Victoria & Albert museum that was literally next door to the Knit Nation venue), had lovely afternoon tea with the tutors, Alice, Cookie and Katie from Hoxton Handmade, and explored the Marketplace as everyone was getting prepared for the shoppers!
After that, Casey and I worked a bit on our talk about Ravelry as we were curiously nervous about it- we have gotten fairly used to talking in front of people but since we were doing it on our own (without Sarah and Mary-Heather) and since people were paying to see us, we really wanted to do the best we could! It ended up going well, I think, since people told us they enjoyed it during the rest of Knit Nation. :)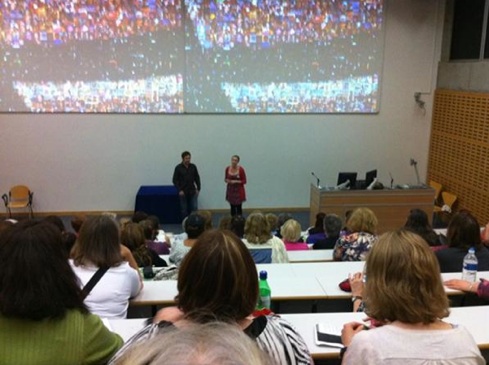 (Thanks for the photo, mulene!) Then it was on to the Ravelry party on Saturday night! Thanks to our awesome sponsors, we were able to host a really fun party and even got some really cute giveaway project bags:
The bags were a big hit with the partygoers- it was fun to see them try to find all the knitting and crochet items hidden in the image. Thanks again to all our party sponsors, we really could not have done any of it without you! Qiviut: Loop and Ysolda Cashmere: Kollage and Socktopus Merino: Denise Interchangeable Knitting and Crochet, Gardiner Yarnworks, Little Knitting Company, The Knitter, Mrs. Moon, Skein Queen, Soak and Rohrspatz & Wollmeise. Ysolda was kind enough to offer the use of her fun photo booth at the party- we all had a great time going in there and getting snapshots, even the bartenders! hah!
There are Julie, Adam and Sarah in their photobooth shots. Julie and Ysolda surprised us with that image layout with the special Bob/ Knit Nation image- such a fun souvenir! I was so happy that Julie and Adam got to join us at Knit Nation- she works so hard on our graphics for events and she finally got to see them in person. Another person we were *so* thrilled to see in person was Velvet/Louisa, one of our wonderful and hardworking moderators of the main six!
Not surprisingly, she was so sweet and got lots of compliments on that shawl of hers! If you were at Knit Nation and want a digital version of your party photobooth images, you can see all of them here. I am nudging Casey to put up a nice gallery but that is what we have right now! There are some pretty funny ones in there. Thanks to everyone that came out to Knit Nation to see us, the party sponsors, the volunteers and of course Alice and Cookie!! Comments here...
---