This is a fun tip post because not only am I going to tell you about a cool new feature, but I'm also going to give you a behind-the-scenes look at how I designed it! Let's start at the end...
What is the Purchase Finder?
Put simply, the Purchase Finder is a new tool that allows you to find things you bought on Ravelry, but are not linked to your Ravelry account—most often, this will probably be a pattern that you purchased while logged out of Ravelry.
The Purchase Finder lives in the purchases section of your notebook, and can always be accessed from http://www.ravelry.com/purchasefinder, whether or not you're logged in.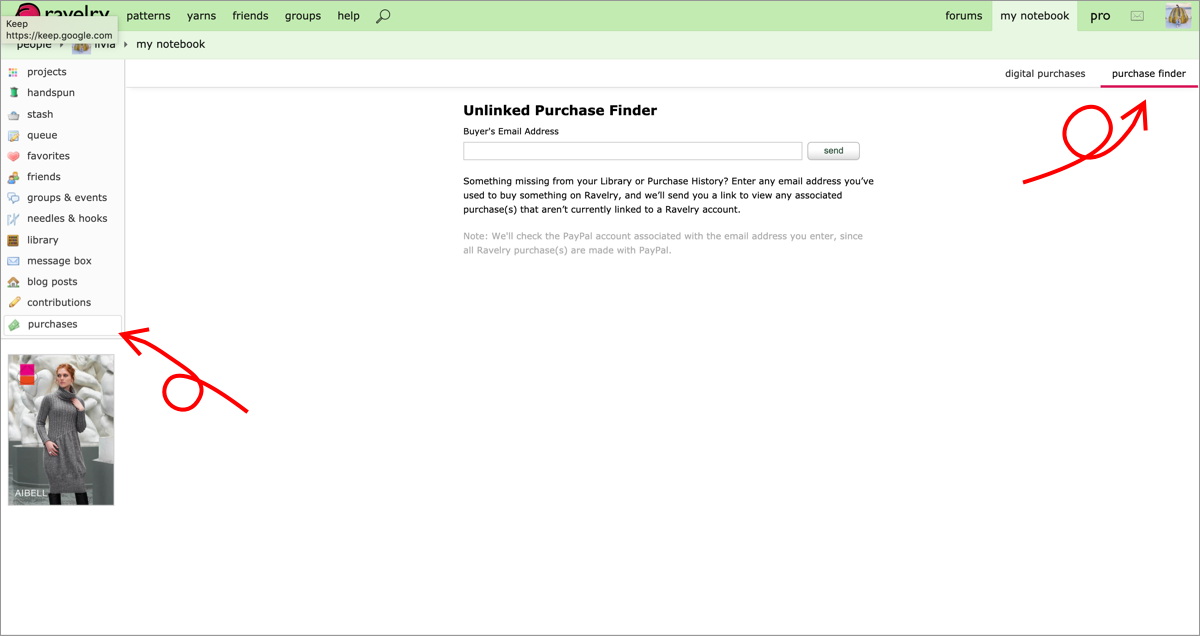 To use the Purchase Finder, you simply enter an email address. The email address should be one you used to make a purchase on Ravelry. We then send an email to that address to...
1. Verify that you own that email address. By sending you an email, we know that address and the purchases attached to it are owned by you. This keeps people from entering any old email address and then claiming someone else's purchases as their own!
2. Let you know if any purchases have been made with that PayPal account, but aren't currently linked to a Ravelry account
3. Give you a link to see the purchases and link them to your Ravelry account, if you want
It probably sounds a little complicated, but if I've done my job right, you should find the Purchase Finder super easy to use. Here's a little bit of info about how and why we created it...
‍🕵🏼‍♀️Step 1: Identifying the Problem & Doing Research
Any good product designer (that's me!) starts a design project by identifying a problem that people are having. In this case, the problem came to us: Sarah was getting inquiries from lots of people who said they couldn't find patterns they'd bought. In order for these wayward purchases to be added into someone's account, Sarah had to do it for them. Casey had the smart idea to create something that would allow Ravelers to find and link up all their purchases themselves.
Once I know what the problem is, I try to learn as much about it as possible, which is sometimes termed "UX (User Experience) Research." UX research can take lots of different forms, depending on the problem: talking to people, sending out a survey, looking at analytics, tracking how a page or feature is currently being used, etc. (If you're interested in this stuff and want to get nerdy about it, this article is my UX research touchstone.) It's all about getting a lay of the land so that I can make informed design decisions that will definitely benefit the Ravelers.
In this case, we already had a lot of research on hand: Sarah shared insights with me about the most common issues people had with finding their purchases, and Casey shared data about things like how many purchases are made while someone is logged out, how many of those people have Ravelry accounts, how many people have more than one account, etc. I also asked Casey, Sarah, Mary Heather, and Jess about 9283745103471534 questions, which they answered patiently and thoroughly.
✏️Step 2: Lots of Sketching & Prototyping
Once I had the lay of the land, I realized that there were so many scenarios we had to account for. What if the person was logged out when they used the Purchase Finder, but they have an account? What if two people shared a PayPal account? If the PayPal email address matched a Ravelry account, could we help that person if they might have forgotten their username? Who am I again?
When there's a lot to consider, I like putting pen to paper to so that I can make sure I'm taking every scenario into account. Once that's done, I can start organizing how the scenarios relate to each other, and hopefully make them as streamlined and simple as possible. These types of sketches are sometimes called user flows, and are the step that comes before drawing anything that looks like an actual page or screen. They often look like treasure maps or instructions on how to put a curse on someone. Here are a few: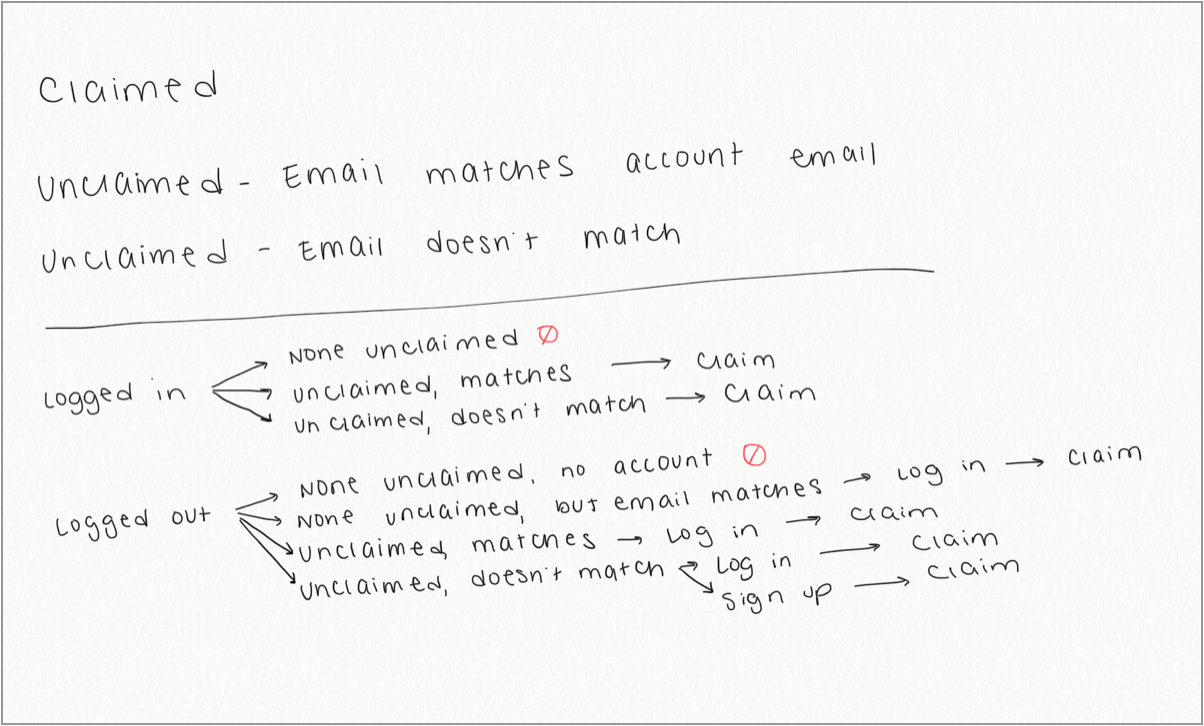 Once the user flows feel organized, I sometimes will also draw a few screens. I did a couple here to make sure that the UX copy (the actual words on each page, which are a very important part of the design!) made sense.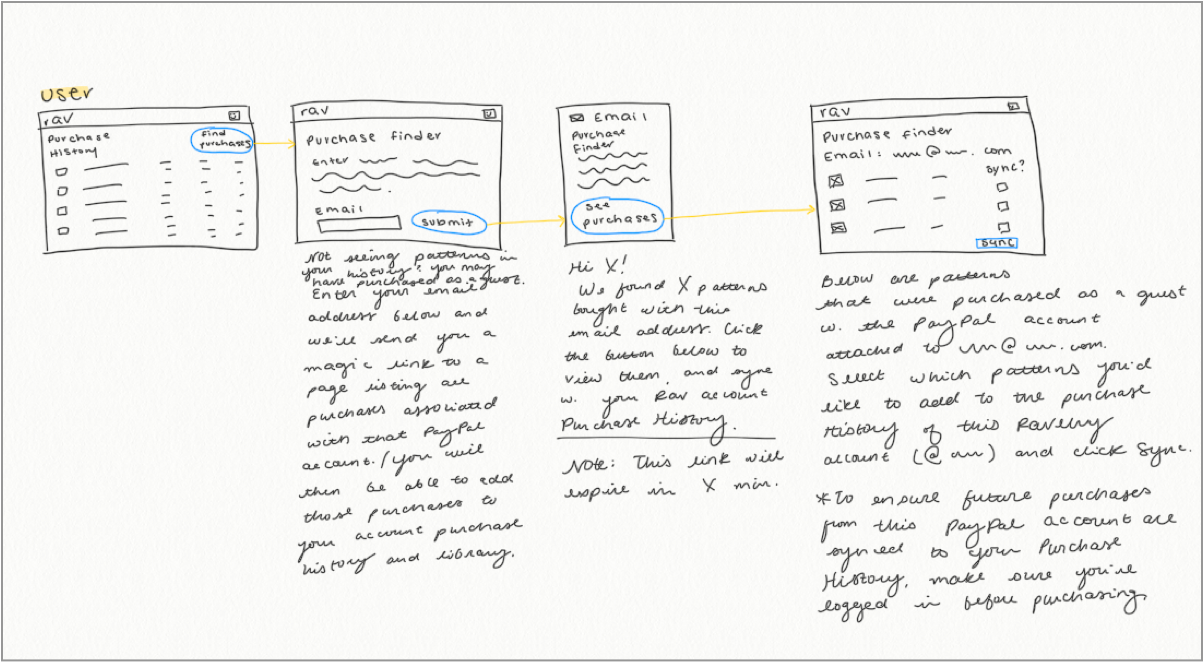 Then, it's time to put these ideas inside the computer. I use a design software called Sketch to lay everything out. These designs (plus many conversations) are what Casey uses to build them into Ravelry.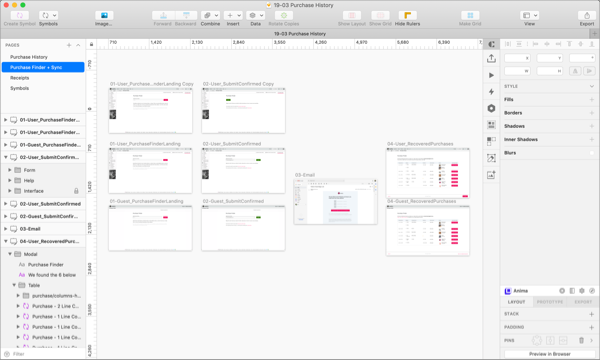 🗯 Step 3: Testing & Feedback & (Gasp!) Spreadsheets
As much as I would love to think of everything before a design goes live on the site, it's impossible! That's why testing things before they go live on the site, or getting feedback afterward, is so important. We did the latter, and two things became apparent pretty quickly:
It was understandably confusing to some people that the purchases we were finding were the ones unlinked to any account.
There were a few rare scenarios that I hadn't done enough to account for—for example, someone might have two Ravelry accounts, and the email address for one might match the email address they entered on Purchase Finder, but what if they wanted to link the purchase to the other account? (Is your head spinning yet!? Now you know what I think about when I can't sleep at night!)
Sometimes I might go back to the drawing board, but this was a rare scenario where these two issues could be fixed in the copy on the pages and in the emails. Because there were so many different scenarios, Casey and I made a spreadsheet with text for each one: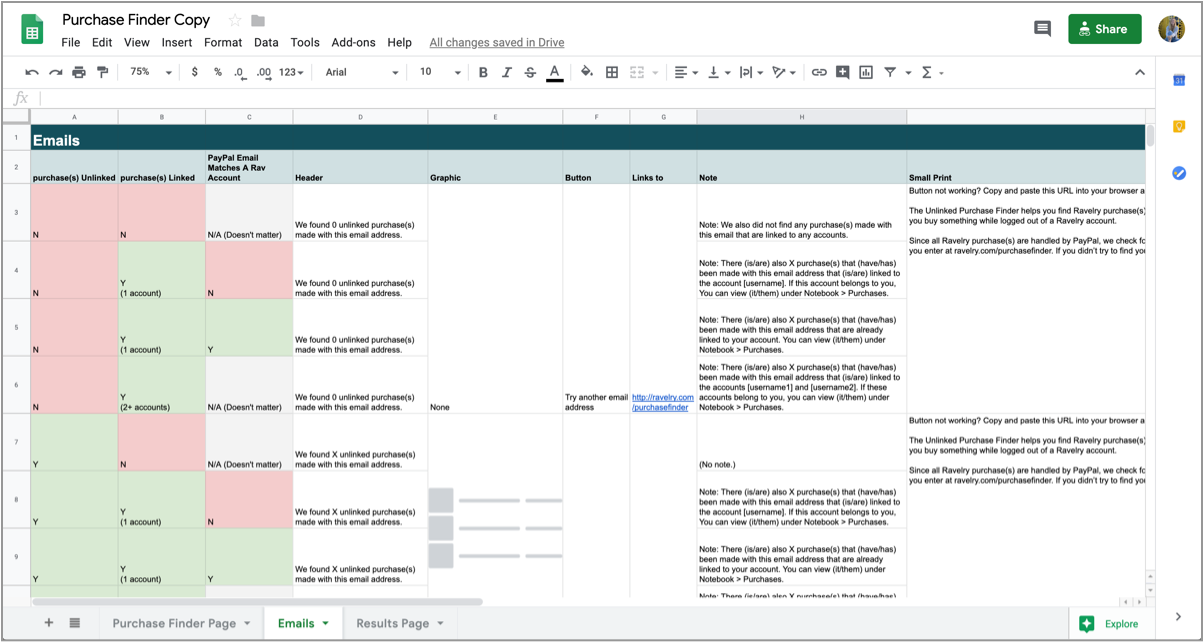 It was also at this point that we started calling them "Linked" and "Unlinked" purchases (we'd previously been calling them claimed, saved, stored, matched, wayward, unclaimed, and some other inconsistent terms that were probably confusing!). I updated some of the Sketch files to have our new copy, and then Casey magically updated it all on the site.
---
And so that's where we're at! If you feel like there are purchases missing from your Library or Purchase History, give the Purchase Finder a spin. And if you have any feedback to share—whether about the Purchase Finder, or just this article!—you can always PM me at @livia or post in FLOTR :)
---