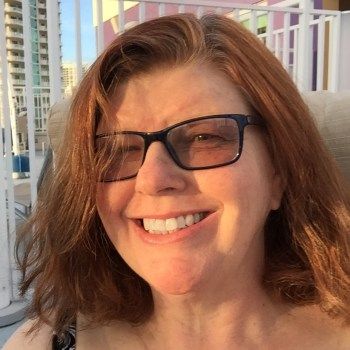 We are saddened to share that the yarn world has lost another pillar of our community, Annie Modesitt, who passed away on October 1.
Known as the Knitting Heretic, Annie loved to tell everyone that no matter how you were knitting, you weren't doing it wrong! She knit using the combination method, and taught many knitters to investigate the "why" behind knitting techniques and find what worked best for them, rather than defaulting to a conventional method to do something. She wrote numerous books, including Confessions of a Knitting Heretic, and had patterns published in countless magazines, including Interweave Knits, Vogue Knitting & Knitters Magazine. She also created a line of hand dyed yarns in 2018 called ModeKnit Yarn.
Kay Gardiner said of Annie that she "lived big despite everything" and that sums up the Annie we knew. She had a laugh that would fill the room and would not hesitate to tell you how she felt about something. She loved riding her bike and had a fantastic sense of humor. We send so much love to her family and friends, especially to her children who she loved fiercely. We will miss her laughter and her voice in our community, but we are thankful we got to share in a bit of it while she was here.
---