Jess, Casey, and I are headed to Southern California next week, where it's about 30 degrees warmer than both Boston and Albuquerque. Woohoo!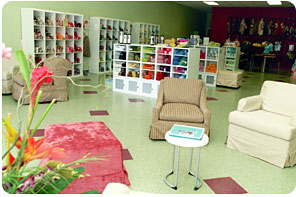 Our first stop is on January 15, at Unwind in Burbank, where we'll be joining Beth and Amanda from Lorna's Laces yarns, Kelly and Dawn from Namaste, and Laura Birek, the author of "Picture Perfect Knits," for a yarn-filled evening! The evening will begin at 7:30, and advance reservations are required because space is limited. There is a $25.00 reservation fee that can be applied toward any purchases or special orders made at Unwind that evening. Unwind will also be collecting charity donations for SOVA, so if you are able, please bring a non-perishable food or personal hygiene item. Your donation will allow you to be entered into a drawing to win one of the fabulous prizes that are available... including some Ravelry goodies. You can reserve your space on the Unwind website!
After the party at Unwind, we're headed to sunny San Diego for the TNNA Winter Trade Show. This is always a great place to connect with other fiber industry folks and find out all about the upcoming books, yarns, and fibers. We won't have a booth because we like to roam the aisles seeing as much as we can and talking to as many people as possible. If you see us, please come up and say hello! Comments...
---