Big things are happening in the Ravelry Pattern Store!

• as of today, 191,000 patterns have been purchased on Ravelry, totalling sales of...

$1,250,000 USD

• 98.7% of the money from these sales has gone to the designers

Those numbers are really incredible to us - that's an amazing amount of support that the Ravelry community has given to the designers offering patterns using the service. During busy times of day, people buy 4 patterns every minute using the Ravelry pattern sales service, and with about 50 new patterns available as Ravelry downloads each day, it's clear that this support is going to keep on growing! Pattern Gifting through the Ravelry Pattern Store! Ravelry is still growing and improving and developing new features all the time. Today, we're so excited to announce a feature we've wanted to offer for a while - gifting for patterns in the Ravelry pattern store, just in time for the holidays! Pattern gifting is easy! If a pattern is available for sale on Ravelry, you'll see a little gift icon on the pattern page, just underneath the "buy it now" and "add to cart" links:

Click on the "send as gift" link and enter the Ravelry name or email address of the recipient - you can even include a little personal message, too!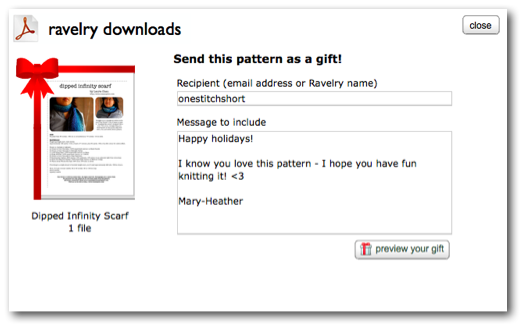 Click on the preview button and you'll be able to review your message and see the avatar of your giftee (if you're sending the pattern to a Raveler):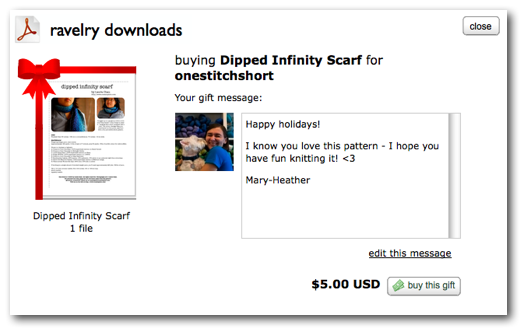 Click on the "buy this gift" button, and you'll be taken through the payment process. As with all pattern sales through the Ravelry pattern store service, you can use PayPal or a credit card to purchase the pattern. The gift recipient will receive the pattern - and it will even be wrapped in a cheery bow in their Ravmail!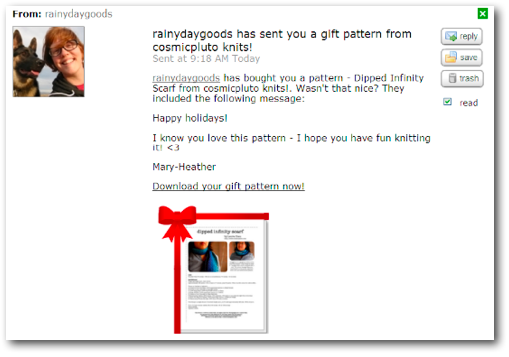 If you've had your eye on a pattern that's available as a Ravelry download and you'd like to put it on your wish list, just add the pattern to your queue. When you edit your queue, you'll see the box to check if you want to add the pattern to your wish list:

Once you've added it to your wish list, the little gift icon will appear next to the pattern in your queue, and other Ravelers will be able to easily buy you the pattern:

So fun! You can browse all the patterns available for purchase on Ravelry using the advanced search and add your favorites to your queue and wish list now! Pattern sales are an important part of Ravelry's income (we charge designers a small tiered fee each month based on sales for the service, and there is no charge for under $20.00 in monthly sales), but more than that, we are proud to be an important part of the increase in the number of quality self-published and indie patterns that designers are offering now. It's so exciting to see designers create great patterns, find quality tech editors and test knitters among their Ravelry friends, publish their patterns on Ravelry, and watch as other users fave, queue, knit and crochet their own projects. On Ravelry, we're crafting as a global community, and it's important to support each other! As of today, 277,000 knitting and crochet projects on Ravelry have been made from the 7,000 free patterns and 13,000 for-sale patterns that have been published on Rav! Ravelry's pattern sales service is designed to be used to sell patterns to non-Ravelers, too (by putting up the "buy now" links we provide on your own website, if you are a designer), so there are even more lovely handknit and crocheted items made from Ravelry patterns out there in the world right now.


Selling and buying patterns through the Ravelry pattern store is easy and fun, and a great way to support our community! Now, with gifting patterns, you can spread a little cheer, too. If you're interested in selling your designs through the Ravelry Pattern Store, please check out the Pattern Store wiki page and the Ravelry Shopkeepers group! We are always happy to help new and established designers get started! Happy holidays to all, and happy pattern gifting!

p.s. the patterns shown in this post are Laura Chau's Dipped Infinity Scarf and Connie Chang Chinchio's Mountain View Cardigan. Thanks, Laura and Connie! Comments...
---