We had such a great time at STITCHES West - the long weekend flew by; probably because there were plenty of yarn fumes to keep us going! STITCHES West is a huge show, and we did our best to make the most of our time there with all the wonderful people we met!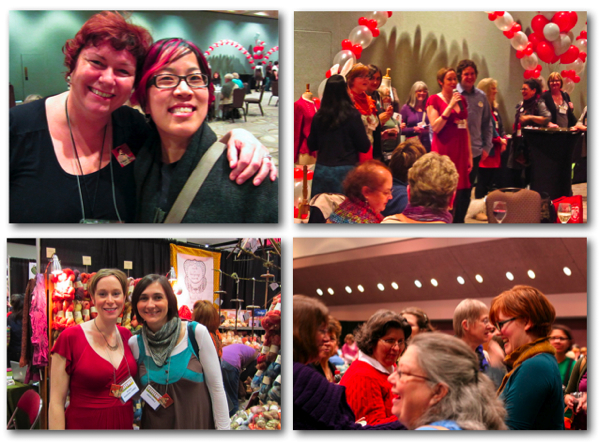 The STITCHES shows have a little something for everyone - there was a marketplace full (and I do mean full!) of incredible vendors, evening activities (like an inspiring fashion show, highlighting lots of inspiring new handknit and crocheted designs, a student banquet, our own Ravelry meetup, and even a pajama party!), and lots of classes taught by some of the finest teachers in the industry. In short... it's amazing! We spent our days in the marketplace, shopping (ahem, some of us may have gone to STITCHES West resolved to come home without any additional stash acquisition... and some of us may have blown that resolution.) and hosting daily meetups. As always, we got so much energy from meeting our users in real life. Ravelers are pretty darn awesome. Casey and Jess even got to have an extra gathering in the Bay Area - they flew out a little early and spent Valentine's Day at A Verb for Keeping Warm, a lovely shop in Oakland. There were cookies, chocolate, yarn samples, and lots of friendly faces - including the cute doggy face of Cleo, the shop dachshund!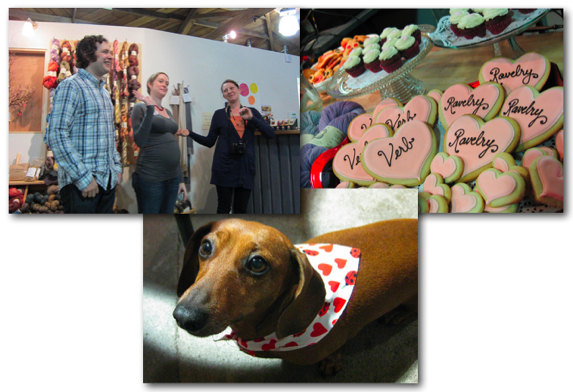 Thank you so much to everyone we met during this trip! If you came to one of our STITCHES West meetups or our Happy Hour, or if you were at the Valentine's Day party at A Verb for Keeping Warm, please add your photos to the Ravelry Events pool on Flickr! An extra-special thank you to the good people at XRX/Knitter's Magazine - you are all so wonderful to work with, and we are so grateful that you invited us to come to STITCHES West and showed us such a great time. We had a blast! P.S. thank you to WonderMike of Fiber Beat for the photos from the Verb for Keeping Warm party and booth! :) Comments...
---