Phew! Summer might be a traditionally slower time for yarn lovers, but we've sure been busy around here! Casey and Jess are, of course, caring for their sweet new baby girl, and Sarah and I have been happily busy at work (both traveling and at home).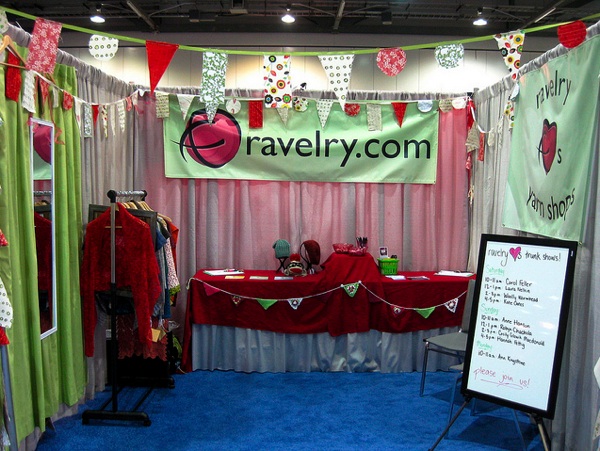 Our first booth at TNNA was everything we hoped for! Sarah and I had a wonderful time hosting designers for trunk shows and meeting shop owners from all over the country. A big service that we launched at this TNNA show was our new In-Store Pattern Sales service. This is a brand-new feature that allows yarn shop owners to sell patterns that designers have made available through this service to their in-store customers. In-Store Pattern Sales: How Does It Work? Participating LYSOs can search for patterns available through this service (designers agree to the pricing scale for any patterns they want to include as long as they are available through the Ravelry pattern store, and shops sell the patterns at the suggested retail price) and sell them to customers through their shops, printing the pattern for the customer in-store if desired. Patterns can also be emailed to the customer and saved in their Ravelry library. At the end of each month, shop owners receive a combined invoice for all the patterns sold during that month, and pay for them through Ravelry via PayPal or a credit card. There are no Ravelry fees to shop owners for using this service. The usual pattern sales fees apply for designers. The In-Store Pattern Sales service received an incredible response at TNNA, and we are more excited about it than ever. Shop owners brought up so many advantages to this service: many shops love to carry paper patterns but may not be able to carry a designer's full line, or may have a shop sample that is selling patterns and yarn like hotcakes and expressed interest in using this service as a way to offer the pattern when they are waiting for a new shipment. Some shop owners saw this as a great way to connect their local customers, even those who are less internet-savvy, to patterns that are going viral online but not available to sell through traditional wholesale methods. Every shop we spoke to gave us more inspiration and ideas - we know that this feature is brand-new in our industry and we couldn't be more excited to launch it. Currently, we are contacting the shop owners who signed up at TNNA, but if you are a local yarn shop owner who would like to offer this pattern in your store (brick-and-mortar shops only: this service is not available for online shops), we have registration information for you at the end of this post. Thank you, designers! Though the launch of this new service was the primary focus of our TNNA booth, we were also so pleased to host trunk shows by some incredibly talented designers: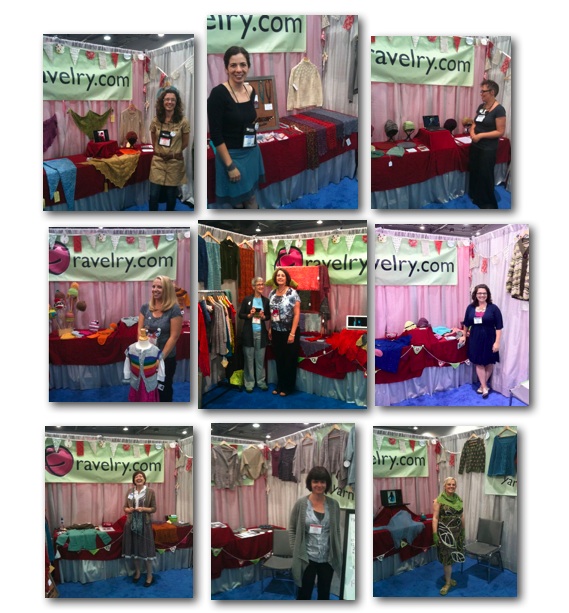 What a pleasure it was to see the gorgeous samples from each talented designer! The Ravelry booth was transformed over and over again throughout the weekend, thanks to the trunk shows, and we really couldn't have planned to have a nicer group of people to spend the weekend with. Carol Feller of Stolen Stitches, Laura Nelkin of Nelkin Designs, Woolly Wormhead of Wooly Wormhead, Kate Oates of TotToppers, Anne Hanson of Knitspot, Robyn Chachula of Crochet by Faye, Cecily Glowik Macdonald of Winged Knits, Hannah Fettig of Knitbot, and Ann Kingstone of Ann Kingstone Designs: we really appreciate you! Thank you so much! We really had a blast, and it was so exciting to announce our new In-Store Pattern Sales service and receive such an incredibly enthusiastic response! Signing your shop up for Ravelry's In-Store Pattern Sales service. If you are a local yarn store owner and are interested in participating in this service, please write to us at instoresales@ravelry.com. Currently, we are contacting the yarn shop owners who signed up for this service with us at TNNA and working to get them set up and using the service. When we have set those shops up (as quickly as possible!) we will begin contacting the shops who have written to us via email, in the order in which we received the messages. (If you signed up at TNNA, there is no need to write us there - we are working through the list!) If you are a designer and you'd like to make your patterns available to local yarn shops, you can do so right in the "configure store" section found in your manage store area. We have instructions in the Ravelry wiki! comments...
---