Here in the northeast U.S., the leaves are turning, the weather is crisp and everyone is pulling out their scarves and mittens.  Just in time too... this weekend is New York Sheep & Wool Festival! We are jumping in our big rental van on Friday to head out to NY.  Now is the big rush to prepare for the fun events we have planned for Saturday and Sunday.  We really hope to see you there! The big event is our 2nd annual Ravelry Rhinebeck Party!   We upgraded our location this year so that we can actually fit all of us. ;) Where: The Elks Lodge (outside pavilion) in Red Hook, NY When: Saturday, October 18 from 6:30 - 11 pm The address is: 7711 Albany Post Rd/ Route 9  Red Hook, NY 12571 Google Maps Link!  (5 miles from the fairgrounds) We're going to have food (not full dinner but lots of yummy snacks!), drinks, music, LOTS of really amazing prize giveaways, plenty of Hello! username buttons so that we can identify each other, and a really, really great time.  Families are welcome!  (After 2 hours, there will be a cash bar.) It is going to be chilly on Saturday night and this is an outdoor party so make sure you bring your woolies!  We are going to have heaters and tents but please come prepared!  Think of it as a way to show of your latest FO. ;) All of this fun would really not be possible without the help from our generous sponsors!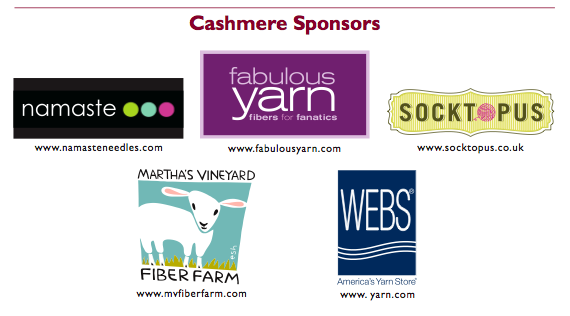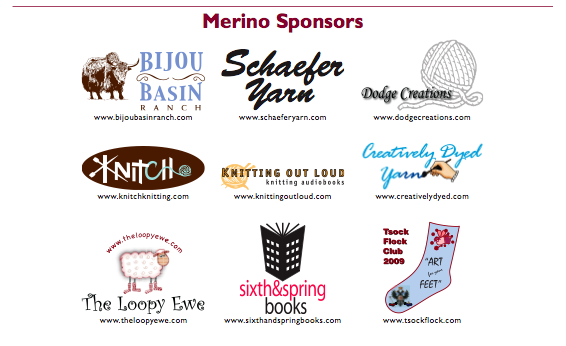 Quiviut Sponsor: Yarnmarket.com Cashmere Sponsors: Namaste, Fabulous Yarn, Socktopus, Martha's Vineyard Fiber Farm, and WEBS Merino Sponsors:  Bijou Basin Ranch, Schaefer Yarn, Dodge Creations, Knitch, Knitting Out Loud, Creatively Dyed Yarn, The Loopy Ewe, Sixth & Spring Books, and the Tsock Flock Club 2009. We are so thrilled to team up with these great people this year!  Thank you so much, sponsors! For the first 400 attendees, we will have special Ravelry Rhinebeck party giveaway bags, with some goodies from our sponsors.  We'll also have some DellaQ zip pouches and mini Soak wash samples. Lunchtime Ravelry Meetups: We also have 2 meetups planned during the day on both Saturday and Sunday from 12 to 1 pm. The location for the meetups is shown on the map below- it is a shaded field up the walkway from the author's tent.  If it is raining, we do have a backup - we'll meet in building D, on the end of the building opposite the haunted house. (Doesn't look like we'll need to worry, but please do note the backup location!)  Come and meet your fellow Ravelers and get a Hello! username button.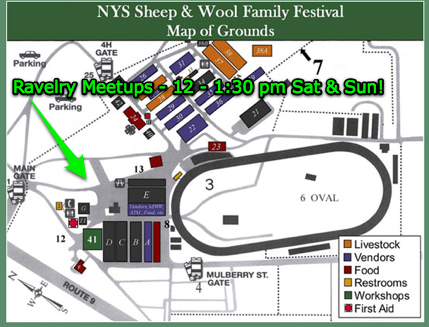 For more information about the Ravelry festivities at Rhinebeck this year, check out this thread in the New York Sheep and Wool group. Be sure to wear your Ravelry shirts, bags and pins around the festival, some vendors are offering a discount to Ravelers!  (Every little bit helps, right?) Comments...
---