We're honored to share the emPower People project, a craftivism project "aimed at uniting crafters of all mediums to engage people across communities to spark conversation, engagement, and action in the political process to uphold social justice and human rights."
The idea behind emPower People is simple: knit, crochet, or sew a purple emPower People Bandana, and wear it proudly while speaking against injustice, attending gatherings, marching, and most importantly (for those of us who have the right, wherever we live): voting!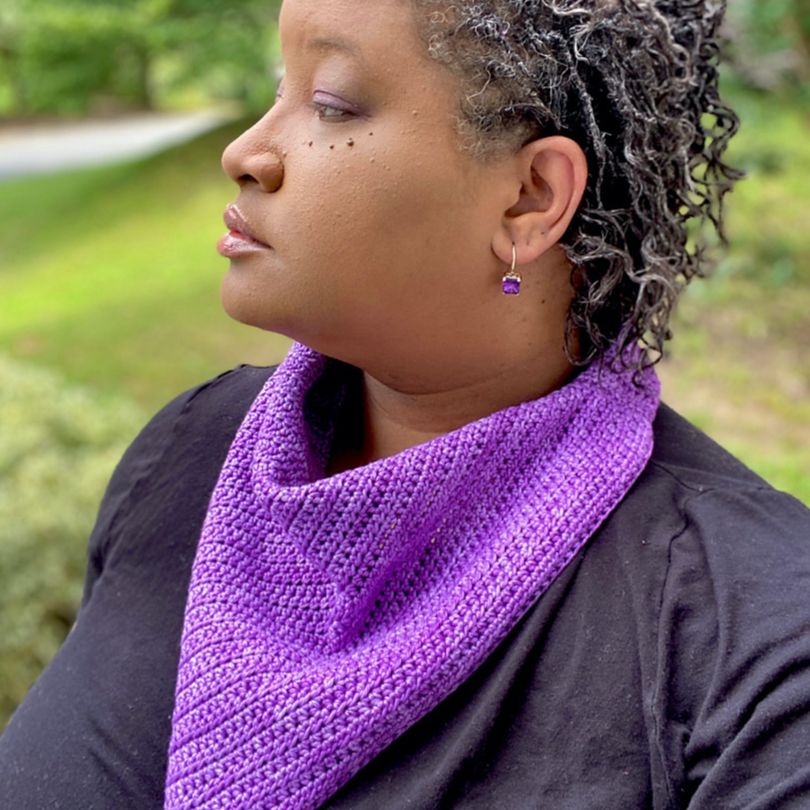 emPower people was co-founded by Diane at Lady Dye Yarns,
Bronwyn of Casapinka, Laverne of BzyPeach, and Ashley of A Jackson Illustrations. Diane shared that "we wanted to be proactive in getting people involved in the political process, instead of reactive... and we wanted to make sure that we represented the diversity within the crafting community." Together, they pooled their creative talents to create free patterns for knitters, crocheters, and sewists, as well as gorgeous purple yarn inspired by the project. In addition, they are using the emPower People Instagram account to share regular posts with voter information or calls to action.
On the emPower People website, you'll find links to dyers who have purple DK weight yarn available for the knitting and crochet patterns, as well as local yarn stores who have contacted emPower People and are specifically supporting this project. So far, they have had over 10,000 downloads of the pattern, and there are already hundreds of fantastic projects on Ravelry!
Crafters have long used their passions and skills to bring awareness to causes that are important to them. Diane of Lady Dye Yarns shared with us that "being able to have a career in supporting people and helping people has allowed me to use my business and my platform to elevate the message of community service and social engagement." The emPower People project seeks to mobilize the crafting community to help advance equity and social mobility for all. We're looking forward to seeing the purple bandanas at marches and polling centers for years to come!
If you are in the United States, you can find important voting information at vote.org.
---