A few minutes ago we hit a huge milestone on Ravery: 100,000 patterns sold using our Ravelry pattern sales service. 100,000! That's over $500,000 in pattern sales!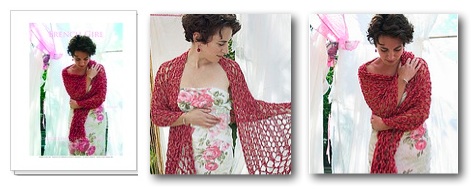 The pattern is Oceane, by Kristeen Griffin-Grimes (frenchgirlknits), and it was purchased by Raveler michelledevon. Thank you to Kristeen and Michelle!
We are very proud of our pattern sales service and are lucky to have received such great feedback from designers and Ravelry users - feedback that has helped us to build cool features for everyone.
Knitters and Crocheters: why would you want to buy patterns on Ravelry?
There is the handy Ravelry library! Ravelry pattern purchases are stored in the "PDFs" tab of your Ravelry library and available for you to download at any time. Not only do you never have to remember where you saved your PDF file, but the pattern will also show up if you choose the "in my library" filter when you are looking for patterns using the Ravelry advanced search: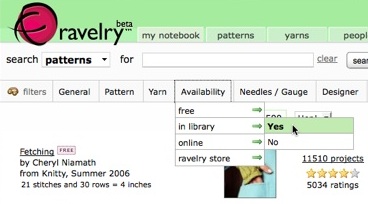 You get pattern updates! If a designer finds errata in a pattern that you purchased, they can easily update the pattern with the new, corrected PDF and send out an email with a link to download the new PDF (the PDF in your library will also be updated)!
The designer gets most of the bucks! Supporting each other helps to keep our industry growing.
Designers: why would you want to use Ravelry to sell your patterns?
For all the reasons above, plus:
It's easy! You can manage your store right through your designer profile on Ravelry, check out your sales charts and other statistics, and get lots of help from Ravelry and other designers in the Ravelry Shopkeepers group. The Shopkeepers group is a great place to share ideas with us, too - like everything else in Ravelry, the Pattern Sales service is a WIP and we're always happy to get ideas and suggestions for new features!

You can use the Ravelry Pattern store to sell on your own website - even to non-Ravelry members! With every pattern you sell through Ravelry, you get download links to use on your own site, for individual pattern purchases or to add to a cart so that crafters can purchase more than one of your patterns at a time. We even provide links that will give you cute "buy now" buttons for your site!

We're not exclusive! If you use the Ravelry pattern store and also want to use another service somewhere else at this time, for whatever reason - go for it! We're always happy to hear of new features and improvements we can add to our services, but we will never make you agree to use Ravelry's services exclusively.
Not only do we provide all these cool features, but the fees that Ravelry charges to use this service are very reasonable:
$0 to $20 in monthly sales: free $20.01 to $100 in monthly sales: 5% of total sales $100.01 to $250 in monthly sales: $5 $250.01 to $1000 : $10 $1000.01 and up : $20
That means more money goes right to you, the designer! Helping independent designers and yarnies get exposure and share their passion and their work with the community of yarn-lovers on Ravelry has always been a huge focus of the site. It makes us happy to know that knitters, crocheters, and designers are all connecting and supporting each other through offering and purchasing great patterns right here on Ravelry!
p.s. As a special surprise, we are going to send a Mint Animals Ravelry t-shirt in the size of your choice (they come in the Unisex style, too) and a Ravelry Button Pack to michelledevon and frenchgirlknits. (We'll write you for your shipping details!) Thank you for using the Ravelry Pattern Store, everyone! Designers, we can't wait to see what you come up with next!
---